Okay people, put on your frugal panties,  because we're going on a cheapskate's ride to Christmas this morning. Cheap Christmas cards? Oh yeah.  We are going to fill all our Christmas card needs for $1.00.  That's right, just one dollar!
First, go to the Dollar Tree and pick through their selection of card boxes that are 2 for a $1.00.
I picked this neat Bethlehem-y one.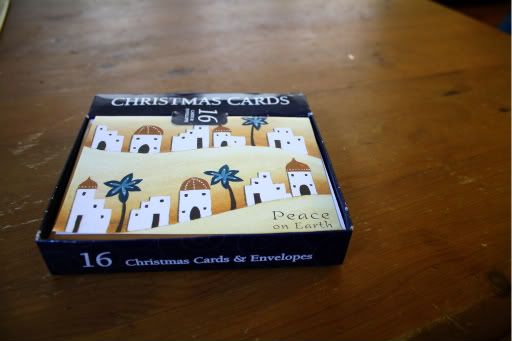 Make sure there's a simple, sappy message inside that you can expound on.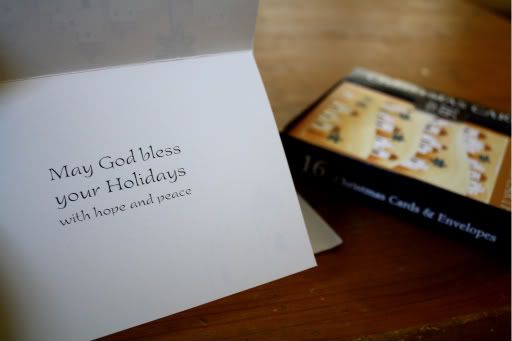 While you're already at the Dollar Tree, search through their sweet collection of decorative printer paper. Forty sheets for $1.00!
Now, if you so choose, write a brief run-down of your year for friends and family who, basically, don't have facebook.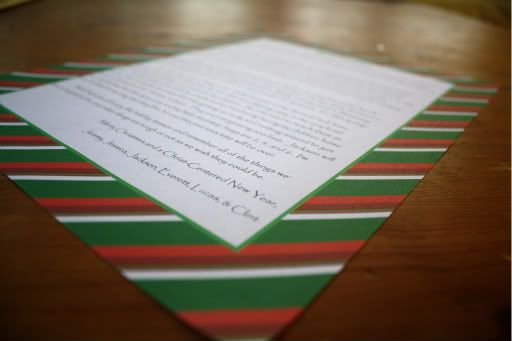 Now, if like me, just the thought of the levels of coordination and cooperation that would be necessary for a bonafide, Christmas-Sweatered family photo leaves you with a bit of a headache, then find decent pictures of everyone from your year and crop some heads! Now pick a program to collage them bad boys together somehow. I did my simple simple version on photobucket.
Then I saved it as a picture file and copy and pasted it into Word so that I (my more technologically inclined husband) could adjust the size a bit to the length of my cards. And then we printed multiples on one page.
The results can only be described as a Bowman Bookmark.
Whatevs. At least it's practical.
Now add all of our card components to their envelope. Added bonus, the Dollar Tree paper is so cheap and thin that it's see-thru! Which adds a little pizazz for everybody.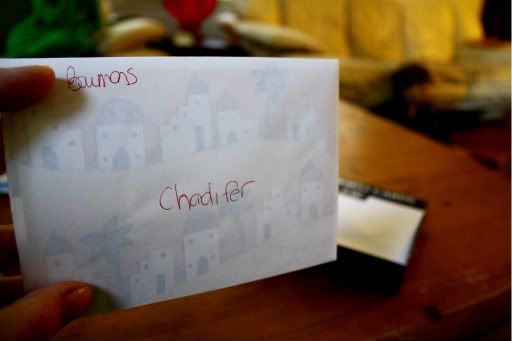 This is for my newlywed friends Chad and Jennifer.  Guess what Two Year Old calls them?
And now … TA-DA!
Using one box of cards, and half my 40 sheets of printer paper, these puppies cost me $1.00 total. Minus shipping. But very honestly, I whittled down the recipient list greatly this year. And more than half of them I'm going to hand deliver. So very little .44 sticky pieces of paper were needed.
Am I going to win any Better Homes and Garden awards for this? Nope. Do I care? Double nope. Are the grandparents going to care? Extra nope.
I gots Cheapskate Christmas spirit, y'all!
-Jessica